KATHY LYNN & DAVID PURCELL HIGHLIGHT THE GUEST LIST AT ANNIE'S TONITE
As the big red curtain parted, Annie Dunavin welcomed the big crowd with a friendly "Come On In, Sit Right Down And Make Yourself At Home." Next, "Marvelous" Marvin Bredemeier put bow to fiddle, playing an audience favorite, "Down Yonder" before pretty Ronni Ward sang Trisha Yearwood's "That's What I Like About You" and Patsy Cline's "Leaving On Your Mind." Then it was time for the man who possesses one of the finest male voices we have heard and Annie's master of ceremonies, Jim Winters who showed a bit of his incredible vocal talents as he sang a Wynn Stewart tune "Another Day Another Dollar," Ray Price's "I'd Rather Be Sorry" and Tom T. Hall's "Shoe Shine Man" as an encore. Sitting in at steel guitar this evening was Vance Monday who got a big hand as he played "Steelin' Home."
Kathy Lynn, one of tonight's guest artists, missed performing most of last year due to illness. It was certainly a pleasure to see and hear her perform again and enjoying good health. She began her set with Hank Snow's "Movin On," then it was Loretta Lynn's "You Ain't Woman Enough" and Kathy Mattea's "Walk The Way The Wind Blows." Tonight's other guest artist was our friend David Purcell who was making his debut here at Annie's tonight. For his first set, David chose Alan Jackson's "Here In The Real World," George Jones' "Today I Started Loving You Again" and donning that crazy cap with the sewn-in pigtails, sang Willie's "Remember Me" and "On The Road Again" as the audience erupted.
The "Queen Of Country Music In Tonganoxie, Kansas," Annie Dunavin then stepped front and center and used her marvelous voice to sing an old Billy Walker tune (re-released recently by Chely Wright), "Nobody But A Fool" and Connie Smith's "Runaway Little Tears." Drummer Steve Straub lent his great vocal talents to the Tennessee state song, "Rocky Top" and as a complete surprise to everyone, Kevin Olson, who was attending the show tonight came onstage to sing the Gatlin's "She's A Broken Lady" and Ricky Van Shelton's "Life Turned Her That Way." Great job, Kevin! Also great was little Haylie Walter, who will have a brand-new name this time next week! They will be tying the knot next Saturday in her hometown of Coffeyville, KS and Mr. & Mrs. Shane Bagwell will be leaving on their honeymoon shortly thereafter. We know all of you will want to wish these two great folks all the best in the years to come. Hailey treated the audience to Ray Price's "My Shoes Keep Walking Back To You," her friend Leona Williams' "You Take Me For Granted" and Connie Smith's "You're Wearing Out The Hinges On The Door." Musical director and lead guitarist David George showed his vocal skills singing George Strait's "The Chair" to close the first half.
After a short intermission, Marvin Bredemeier & Vance Monday played twin fiddles on a old hoedown tune, "Bile That Cabbage Down" to open the second half. After Haylie Walter sang Grand Ole Opry member Ernie Ashworth's "Talk Back Tremblin' Lips" and Tammy Wynette's "Stand By Your Man," emcee Jim Winters got a big ovation as he sang Hank Sr.'s "Mind Your Own Business" and Gene Watson's "Farewell Party." (Just a reminder: Gene Watson will be appearing here at Annies August 22nd for two shows: 3PM & 7:30PM!)
Kathy Lynn brought back some memories as she sang a 1946 chart buster written by Bobby Troup and recorded first by Nat King Cole, "Route 66" and a beautiful job on "You Belong To Me." Ted Ward, who handles Annie's bass guitar duties is another multi-talented musician and got a big hand as he sang Buck Owens' "Hello Trouble." To begin his second set, David Purcell sang a beautiful Garry Bichelmeyer tune, "Northern Star," then it was "Never Be Another You" and at the audience's insistence ----- another Willie song, "Help Me Make It Through The Night."
Ronni Ward returned with "Heartaches By The Numbers" before Annie did a fabulous job with "Faded Love" and a gospel number "Amazing Grace" as the band played "House Of The Rising Sun." David George closed the evening with "My Reedemer Is Faithful And True." (Below) David Purcell & Kathy Lynn backstage at Annie's Country Jubilee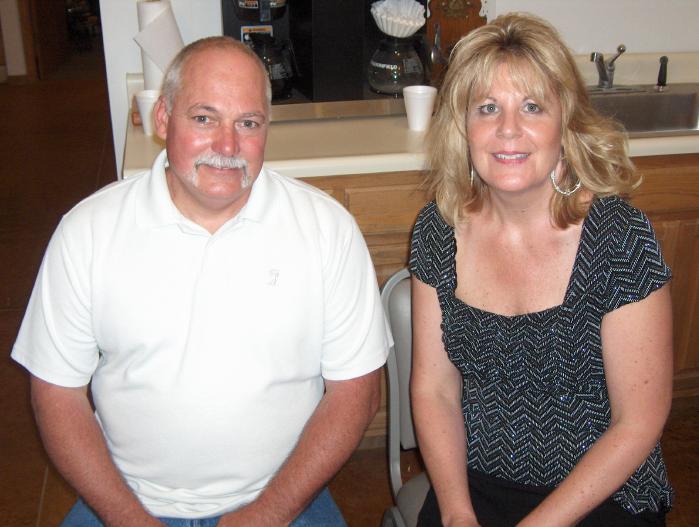 We have always admired how versatile as musicians Ted & Ronni Ward are. Ronni's beautiful voice and rhythm guitar playing as well as Ted's work on bass guitar and his jaunty delivery of a vocal, grace every Annie's Country Jubilee performance. We have also seen this talented pair sing at area coffeehouses, city squares and other venues as a duo, with a small band or as part of a gospel group. We asked them to sit down with us after the show tonight and share a little about their backgrounds.
Ronni told us that she was born in Kansas City, KS and started singing in church as a child. She continued to sing through her high school years and sang at the Turner High School prom. "Eventually, I became a member of a group called Cowtown," Ronni told us, "that toured regionally, MO, AR, KS, IA, NE, & OK and opened for artists such as The Desert Rose Band, Patty Loveless, the Bellamy Brothers, Exile, Restless Heart, Johnny Lee, Blackhawk & Chris Isaacs to name a few." The group became so popular that it was featured at Crown Center's Friday Night Concerts and other public events. It was during one of these sessions, a gig at the Hyatt Regency that Ronni and Ted first met.
"The circumstances under which we met were a little bizarre!" Ronni said. "Our lighting man got drunk and fell asleep, so we had to fire him. This left us in a real bind, but fortunately our drummer knew Ted and called him to help us with the lights. And that's how we met, because of a drunken lighting man!" After they were married, Ted & Ronni became a duo, playing bars in the Westport area and other area venues. One of Ronni's classmates at Turner High School was Jim Winters and after Cowtown broke up, he asked if she'd like to join an opry in Tonganoxie. Shortly thereafter she joined Glen's Opry as it was called then and two months later Ted was hired as well.
Ted Ward had a friend who lived in Kansas City and was always telling him how great the living was here and on almost a whim, his drummer friend and himself moved lock, stock and barrel from New York to KC in 1976. They couldn't believe their luck, renting the entire 2nd floor (8,000 sq. ft.) of the old Ebenezer Building (built in 1890) at 5th & Delaware for $150 a month! They practiced 4-8 hrs. every day and became part of a popular local band, the John Bailey Explosion when their bass & drummer left to become part of the James Brown band. Playing such local hot spots such as the Plaza's Putsch's Cafe & the Sugar Shack at 51st & Main, they lost their faithful Dodge Dart to 1977's Plaza flood waters, having to swim for their lives!
Ted's musical talents allowed him to play with many groups over the years: Plain Jane, Jackie Cook, Boss Tweed & Max Groove (when he met Ronni) and took him to faraway places such as London, England in 1984 and Denver, CO. somewhat later. Ted has been in construction since he was 14 years old and today owns and operates Ted Ward Construction, specializing in new home construction and home remodeling and Ronni has been teaching voice & guitar in the home for the past 8 years. Add that to their many outside shows and the fact they are a fixture at Annie's Country Jubilee each and every Saturday night, these are some busy folks. We want to take this chance to thank both of them for taking time from their busy schedules to visit with us and share a little of their lives. Check out Ronni's website @ www.myspace.com/ronniward (Below) Ted & Ronni perform at a local coffeehouse.
Posted by hawkshaw5 at 11:02 PM CDT
Updated: Sunday, 7 June 2009 7:15 PM CDT