ARNIE JOHNSON & THE STRANGER CREEK BAND CONTINUE FESTIVITIES AT THE BK TONIGHT
Despite the chilly conditions, the BK was literally swamped with country music lovers and dancers this evening and late comers (like ourselves) were frantically searching for parking places amid the snow piles and icy lot conditions. We managed to find a spot at the back of the lot, nuzzled up against a snow bank and just as we opened the door, the band was playing the opening strains of "Gordon's Boogie," their unofficial theme song. Tonight found the group's lead singer, Larry Dean taking a well deserved vacation and Lawrence, KS's Arnie Johnson, a long-time area musician & band leader aptly filling in. Arnie began the evening with Hank Sr.'s "I Could Never Be Ashamed Of You," "When My Blue Moon Turns To Gold Again" and Charlie Pride's "Crystal Chandelier." Arnie returned later with Lefty Frizzell's "I Never Go Around Mirrors," Keith Whitley's "Somewhere Between," Jimmy Rodgers' "T For Texas," Gene Watson's "Paper Rosie," "Walkin' The Dog," Merle Haggard's "Silver Wings" and an Elvis Presley classic, "That's All Right Mama." Lead guitarist Gordon Riley also chose to sing an Elvis tune, "Big Boss Man," much to the delight of the audience, then he and the rest of the band including John Malone on drums teamed up on "Wheels," "Honky Tonk" and "Back Home Again In Indiana" as the floor was literally covered with dancers. "Mighty" Marvin Bredemeier, who plays fiddle every Saturday night at Annie's Country Jubilee in Tonganoxie, KS showed his vocals talents off as well tonight with "Rubber Dolly" and Bob Wills' "Right Or Wrong." He was to return later with "Tennessee Waltz" and another Wills classic, "Milk Cow Blues."
David Purcell is always a crowd favorite and tonight he put on his best Willie voice to sing "Funny How Time Slips Away,' then it was a Garry Bichelmeyer song, "Northern Star," another Willie - "Remember Me" and "I Wonder How Many There Would Be." Art Covey and his mandolin were joined tonight by good friend Ron Fine on his guitar and together they did a beautiful job singing and playing "Falling Leaves," "Now And Then There's A Fool Such As I," "Rebel Soldier" and "Frauline." Mary Bichelmeyer did her usual fine vocal treatment on "Your Cheating Heart" and Gordon with help from Dave sang the Waylon Jennings classic "Good Hearted Woman." It's always great to hear Annie Little tackle a song and tonight she did a swell job with Patsy Cline's "I Love You Honey" and Anne Murray's "Could I Have This Dance?". Art & Ron closed out this evening's festivities on a spiritual tone with "Will The Circle Be Unbroken." Note: Due to vacations, there will be no show at the BK next Tuesday 1/19/10 and Grinter House will be held Thursday 1/28/10. (Below) top - Arnie Johnson entertains the big BK crowd bottom - Ron Fine (l.) and Art Covey (r.) sing "Falling Leaves"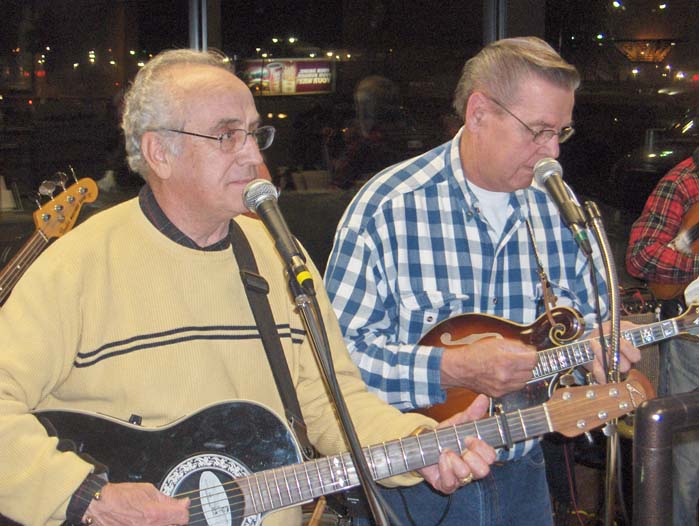 Posted by hawkshaw5 at 11:44 PM CST
Updated: Wednesday, 13 January 2010 12:25 AM CST