WE RING IN 2010 AT ANNIE'S WITH GUEST ARTISTS KEN PHAGLEY, BETH HUNTER & KEVIN OLSON!!
It was a big crowd of revelers that braved the chilly temperatures to help bring in 2010 in the best method that we can possibly think of--- spending the evening with good friends and enjoying some of the finest classic country music around! The Jubilee theatre was beautifully decorated and adorned with reminders of the approaching new decade, but before zero hour approached, there was a lot of top entertainment and great music to listen to.
Annie Dunavin welcomed everyone Patsy Cline style (Now, come on in, sit right down and make yourself at home!) then introduced Ronni Ward who was dressed in a beautiful floor-length velvet dress. Ronni put her vocal talents to good use with Highway 101's "The Bed You Made For Me" and returned later with Tanya Tucker's "Someday Soon," "Kansas City" and "Angels From Montgomery." Emcee Jim Winters who also is one of the finest male singers around these parts stepped front and center to sing Randy Travis' "Honky Tonk Moon" and George Strait's "Don't Mind If I Do," after introducing musical director and lead guitarist David George and the rest of the Annie's Country Jubilee band. Later it was Jack Greene's 1961 megahit "Last Letter From Me" and another Strait tune, "Ace In The Hole." Fred Uzzell did a wonderful job all evening on the steel guitar and dobro, especially his treatment of "Don't Get Around Much Anymore" as did "Mighty" Marvin Bredemeier, who got a big hand as he fiddled the "Orange Blossom Special." Drummer Steve Straub used his tremendous vocal talents to sing Merle Haggard's "Farmer's Daughter" and Ted Ward, the group's bass player also turned in a fabulous vocal performance with "Bobby Sue." Pretty Haylie Walter can handle a good ole country song with the best of 'em and very fittingly started with a Hank Williams' classic "You Win Again." She was to return later with Dolly's "Here You Come Again," Tammy Wynette's "Till I Can Make It On My Own" and Martina McBride's "Broken Wing." And speaking of great vocals, Annie herself was to return with a k d lang tune "Down To My Last Cigarette," Lynn Anderson's "If I Kiss You" and the Judd's "Love Can Build A Bridge." Great stuff!!
Tonight's first guest artist, the classy Ken Phagley is certainly no stranger to frequent opry and country show attendees as he has been a mainstay at most of these and other venues in the area for many years now. Dressed to the nines, as he always is, Ken interacted beautifully with the audience as he sang John Michael Montgomery's "Be My Baby Tonight," Elvis' "There Goes My Everything," "George Strait's "Fire Man," Charlie Rich's "Most Beautiful Girl" and the upbeat "Johnny B. Goode" and "Whole Lotta Shakin'." It wouldn't be New Year's Eve without Beth Hunter and this crazy little lady from Albia, Iowa remains one of our favorite performers bar none. Jimmy Dean's "Bummin' Around" was followed by Janie Fricke's "Someone To Hold Me" and the whimiscal John Hartford tune "Don't Leave Your Records In The Sun" preceeded the infamous "Washing Machine Song."
It was just super seeing Kevin Olson was on tonight's program. This naturally talented performer is always such a pleasure to listen to. Tonight he chose Charlie Rich's "Kiss An Angel Good Morning," a Gary Morris song, "Velvet Chains," Keith Whitley's "Don't Close Your Eyes," Doug Stone's "Fourteen Minutes Old" and the Gatlin Brothers' "Broken Lady." Kevin was to return as did many of the other artists for a final set after midnight. At intermission, everyone was treated to a meal of BBQ beef sandwiches, dill pickles, chips, cookies, punch and an after-dinner mint and just before midnight, festive party hats and noise makers were passed out for the magic hour. As Jim Winters saluted the upcoming New Year's arrival with Gene Watson's "I Don't Need A Thing At All" and Dave Dudley's "Six Days On The Road" Annie's alter ego, "Ruby" made her 2010 debut, actively persuing poor Jim (and anything else wearing trousers, we expect). Some things never change! As midnight officially arrived, Fred Uzzell led a singalong, playing "Ault Lang Syne" on his steel guitar and Beth Hunter sang "Do Lord" and it was Ken Phagely with "Down To The River" before Haylie Walter was kind enough to sing a request from us of Johnny Bush's "What A Way To Live."
Kevin Olson returned as well with a Ronnie Milsap hit "Daydreams About Night Things" and Randy Travis' "Three Wooden Crosses." Ronni Ward closed this tremendous evening with Patsy Montana's "He Taught Me How To Yodel," Dolly Parton's "Jolene" and a George Gershwin classic "My Love Is Here To Stay." Before we forget it" A VERY HAPPY NEW YEAR TO EACH AND EVERY ONE OF YOU OUT THERE!! And in 2010 let's KEEP IT COUNTRY!! (Below) top - l. to r. Kevin Olson, Beth Hunter, Ken Phagley middle - Jim Winters with a little more than he can handle -- the notorious "Ruby" bottom - Beth Hunter & friends perform "The Washing Machine Song" JUST A NOTE; Next Saturday Annie will feature our friend Bill Jordan who has returned to the area after living and performing in Branson for several years. Folks, you don't want to miss seeing Bill...make those reservations early!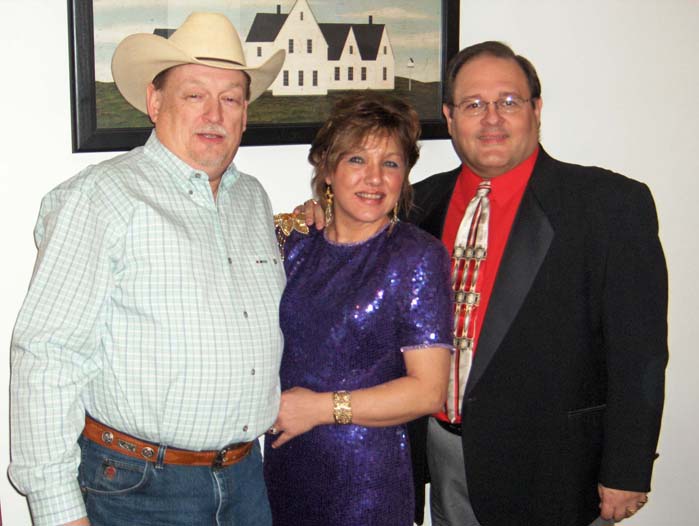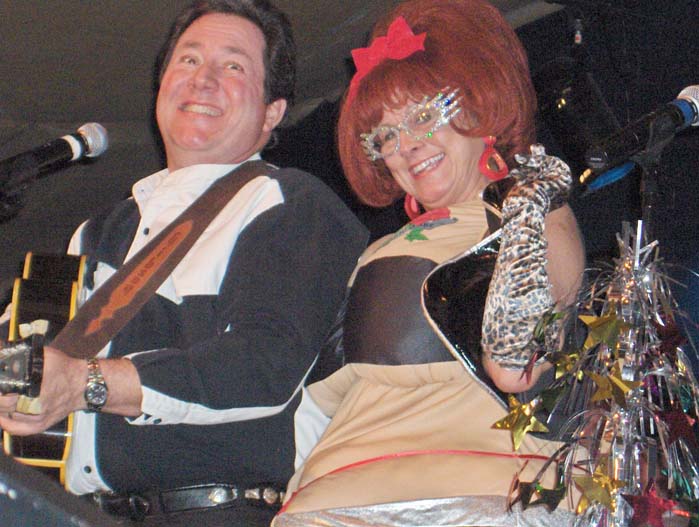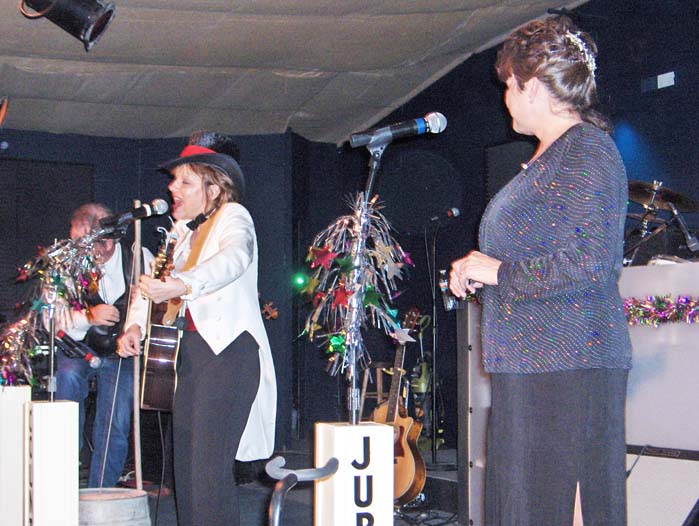 Posted by hawkshaw5 at 12:38 PM CST
Updated: Saturday, 2 January 2010 10:14 AM CST