TONIGHT H.A.B.O.T. FEATURES BLUEGRASS & WESTERN SWING AT IT'S FINEST
Hard to believe, but it's already the third Friday of the month and January is already half over, the snow is melting and we're getting used to writing "twenty-ten" (2010)! As we arrived at the Northcross Methodist Church, 1321 N.E. Vivion Rd. in Kansas City's Northland where the Heart Of America Bluegrass & Oldtime Music Club (H.A.B.O.T.) meets, it was evident that we weren't the only ones "thawed out" and anxious for an evening's entertainment as the parking lot was full and it was a scramble to find a place to park. As we entered the church, we noticed that the back rooms were already full of jammers and that a big crowd was already forming in the auditorium, anxiously awaiting tonight's program.
President Mary Eddings welcomed everyone to tonight's gathering and after a few announcements introduced tonight's first guest artist, Mary Harris of Overland Park, KS who played her autoharp and sang "Wildwood Flower," an instrumental of "Remington Ride" and John Denver's "Gramdma's Feather Bed." Next up were Joyce Carriker and Jake Smith, Joyce, of course having served for many years as H.A.B.O.T.'s newsletter editor and Jake, a past president of the organization. With Joyce on the doghouse bass and Jake on banjo, they sang some great old tunes: "Just A Closer Walk With Three," the "Crawdad Song," Moe Bandy's "Too Old To Die Young" and Vern Gosdin's "Gonna Be Movin'." Dave Hicks, who accompanied them on guitar and also serves as a board member, took his turn behind the mike, doing a bang-up job with "Blue Ridge Mountain Home" and "Where Could I Go?"
Tonight's first band, Judy Coder and Cowgirl Swing. all dressed to the nines in their classy cowgirl costumes, features Judy Coder on guitar and lead vocals, Diane Gillenwater, fiddle, mandolin & vocals, Karla Campbell, stand-up bass, vocals and Patti Nance, dobro & vocals. "Cowgirl Swing" preceeded Jimmy Dean's "Cimarron Roll On," "Mockingbird Yodel," "Cowboys Are My Weakness" and "Silver Spurs." Next up was "Arikaree Breaks" a song Diane co-wrote about an area in northwest Kansas, followed by "I Didn't Know" and the beautiful, award-winning "Mourning Dove Song" by Judy. Next up was Bob Wills' "Panhandle Rag," "Spurs That Jingle Jangle Jingle," "Singing On The Trail," "Cottonwood Waltz," "Paint The Town," "Thank Heavens" and "Yippie Yi Your Troubles Away." Find out lots more about Judy Coder and this group by logging onto: www.judycoder.com .
Tonight's second group, Country Shindig have their own show in Lawson, MO, at the community center every 3rd Saturday beginning at 7 PM. Tonight, with Jim Downs sitting in on bass, Karen King started the set singing a Hank Sr. song, "There's A Tear In My Beer" with Royce King close behind with George Jones' "A House Of Gold." Walt Weigand sang another George Jones gospel tune "Old Brush Arbor" while Norman Martin sang crowd favorites, "I Use My Bible For A Road Map," "Mama's Hungry Eyes" and later returned with "I Won't Go Huntin' With You Jake, But I'll Go Chasin' Women." Donna Werle sounded so good as she sang Little Jimmy Dickens' "Just Another Bridge To Burn" while Ruth Graham & June Smitha blended their voices beautifully, proclaiming "If You Lift Your Eyes A Little Higher, You Won't See The Thorns, You'll See The Rose." Martha Hayes was up next, with a real oldy but goody, "Red Clay Halo" and Sherry Schoolfield sang a honky-tonk favorite, "Down To My Last Cigarette." Royce King returned to lead the group in closing with "How Great Thou Art."
There was a last minute cancellation due to a death in one of the members of the last scheduled band tonight, so who is better putting a last minute show together than Byron Jones? No one, that's who and that is why the last band of the evening was called simply, "Byron Jones & Friends." Along with Byron (vocals & guitar), it was Mark Franske (vocals & mandolin), Jim Downs (vocals, bass) and Jake Smith (vocals, banjo). Byron kicked the set off with "Cabin In The Hills Of Caroline" and Porter Wagoner's "Old Love Letters" before Mark, playing a brand-new mandolin he had just made, led the group picking "When You And I Were Young Maggie." Mark returned to sing Bill Monroe's "She's My Little Georgia Rose" and the Stanley Bros. "White Dove." Mary Eddings joined the group to sing "I Wonder Where You Are Tonight" and "Wildflowers" and then it was Jean Bartee with "I Think I'll Just Stay Around" and "I'll Take The Blame." Jim Downs followed with "Slewfoot" before Jake and the rest of the crew closed the evening with "I Saw The Light." Byron announced that the Northtown Opry will be returning to North Kansas City around the 1st of April and shows will either be held on Fridays or Saturdays. (Below) top - Judy Coder and Cowgirl Swing center - Lawson MO's Country Shindig bottom - Byron Jones & Friends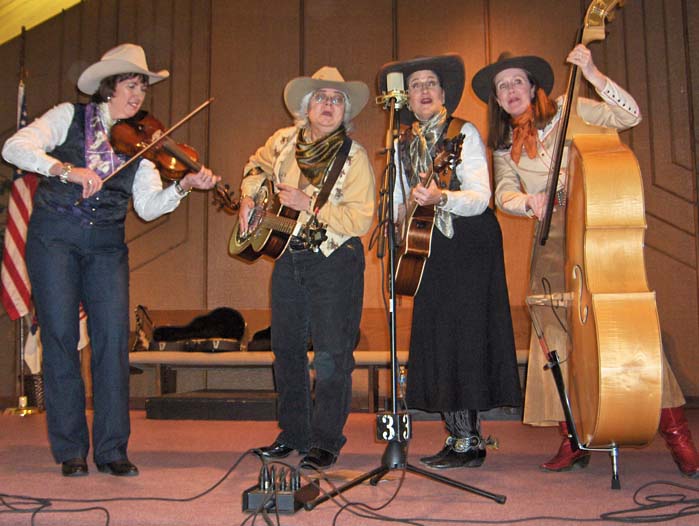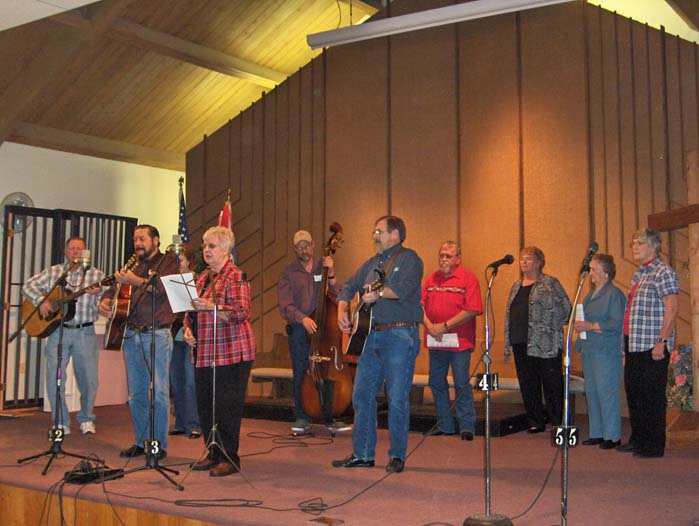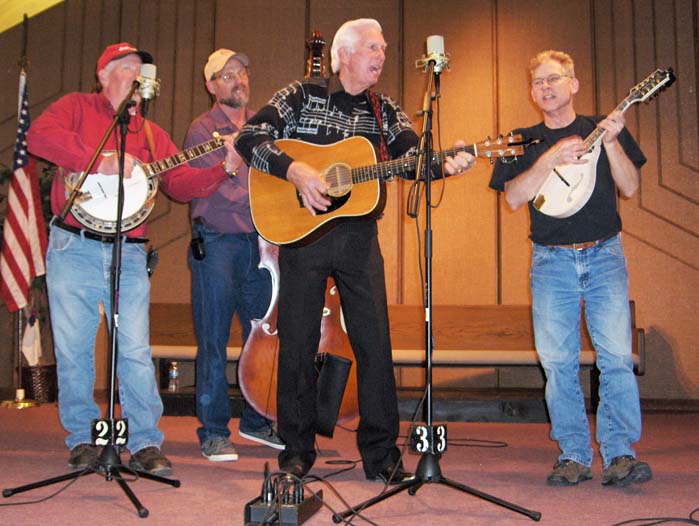 Posted by hawkshaw5 at 12:01 AM CST
Updated: Sunday, 17 January 2010 12:52 AM CST