TONITE IT'S GREAT GOSPEL MUSIC, A TIMELY MESSAGE & DELICIOUS SNACKS AT RUTLADER'S COWBOY CHURCH
With the BK being closed this Tuesday night, we had originally planned on spending the evening at home when we remembered what an enjoyable time we had the last time we were able to attend Pastor Carl Garrett's Cowboy Church, located at the Rutlader Outpost, just a few doors south of the Middle Creek Theatre near Louisburg, KS. Along with Annie Little & Jay Holmgren, who rode down with us, we left our home base in Merriam a few minutes after 6PM this evening and although we ran into a couple of traffic snarls, arrived with time to spare before the 7 PM start time. The large number of vehicles we noticed in the parking lot outside was mute testimony to the popularity of this every-Tuesday night spiritual get-together and as we entered the building, it brought back memories of an old country church we would attend whenever we visited our Grandpa in rural southern Illinois.
The band tonight consisted of Teresa Mote, band leader, guitar/bass. Cheryl Gardner, keyboard, Jack Smith, rhythm guitar, Pastor Carl Garrett, bass, Eldon Landis, lead guitar, Wes Medin, steel guitar, Karen Eoriatti, vocals. Among the selections tonight were "Leaning On The Everlasting Arms," "He Keeps Me Singing," "Praise Him Praise Him," "Let's Just Praise The Lord" and Jack's solo of "Your Grace Still Amazes Me." Pastor Carl delivered a fine message this evening, urging all Christians to concentrate on being Christians and not so much on being a Baptist, Methodist or other denomination. We have to agree that this would be a much better world if we were able to ignore the differences which drive us apart and pay more attention to the similiarities which bring us together. Amen. It was just astonishing to see all the wonderful sandwiches, meats, cheeses, and all kind of desserts and goodies that these folks brought in and suffice it to say everyone went home stuffed!
It was great seeing Sylvia as well as Eldon Landis, whom we know from the KOFPS shows in Spring Hill and Bill and Brenda Harris who own and operate the Outpost and the Middle Creek Theatre. It was announced tonight that the Missourians Gospel Quartet will be appearing at the MIddle Creek Theatre for a special Southern Gospel show on March 6 @ 7:30 PM. Stay tuned for further details. (Below) The Cowboy Church meets each Tuesday night at the Rutlader Outpost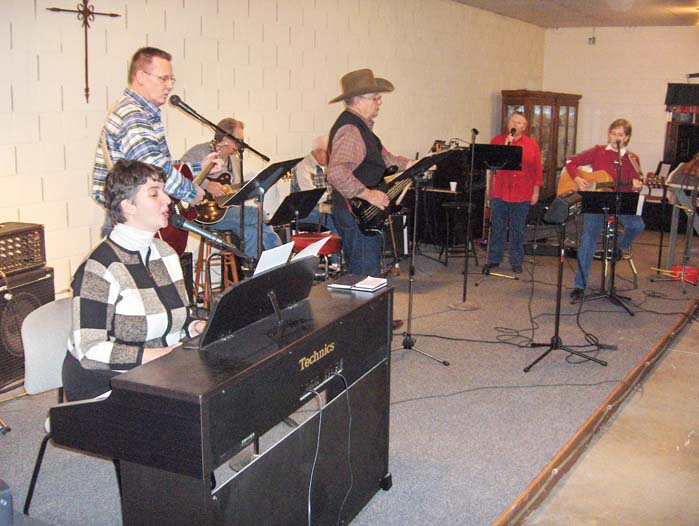 Posted by hawkshaw5 at 11:32 PM CST
Updated: Thursday, 21 January 2010 10:52 PM CST