Home
Annie's Country Jubilee TONGANOXIE, KS
Barn Door Opry RAVENWOOD, MO
Barn Mart Opry BROOKFIELD, MO
Big Creek Country PLEASANT HILL, MO
The B. K. Lounge LENEXA, KS
Black Diamond Jubilee MACON, MO
Blue Mound KOFPS Chapter
Cline's Opry EDGERTON, MO
Country Cabin Jamboree - SAVANNAH, MO
Ctry Music at the Lake WARSAW, MO
Country Pickin Opry RICHMOND, MO
Country Shindig LAWSON, MO
Countryside Jamboree CAMERON, MO
Darlington Opry DARLINGTON, MO
DeSoto KOFPS Chapter DESOTO, KS
Dirk's Bar & Grille - Kansas City, MO
Gardner KOFPS Chap. GARDNER, KS
Gower Goodtimes Opry GOWER, MO
Grinter Barn Jamboree KANSAS CITY, KS
H. A. B. O. T. Meeting KANSAS CITY, MO
Hazel's Country Cafe INDEPENDENCE, MO
Heartland Unplugged KANSAS CITY, MO
Holt Country Hoedown HOLT, MO
Jr's Hitchin Post QUENEMO, KS
KCABMC INDEPENDENCE, MO
Knuckleheads Saloon KANSAS CITY, MO
Leavenworth KOFPS Chapter LEAVENWORTH, KS
Middle Creek Theatre LOUISBURG, KS
Mosby (MO) Opry MOSBY, MO
Night Sky Opry ALLERTON, IA
The Northtown Opry NORTH KANSAS CITY, MO
Northwest Opry MARYVILLE, MO
Nowata Country Jubilee NOWATA, OK
Old Town Jamboree HAMILTON, MO
Oregon (Mo) Opry OREGON, MO
Plattsburg Opry PLATTSBURG, MO
Ramblin Country GENTRY, MO
Rick West Big Country Music Show INDEPENDENCE, MO
SALLY MTN. SHOW Queen City, MO
Spg. Hill KOFPS Chapter SPRING HILL, KS
Thursday Nite Opry KANSAS CITY, MO
Wagon Wheel #2 PATTONSBURG, MO
Westline Jamboree WESTLINE MO
ARTIST PAGES
COUNTRY SHOW CALENDAR
KNEE SLAPPERS
BLOG - Mo-Kan Opry Travels
SLIDE SHOW
OTHER LINKS
MISCELLANEOUS

| | |
| --- | --- |
| | Send us your favorite rib tickler or knee slapper and if it's clean (this is a family-oriented site) and makes us laugh, chances are it'll show up here. Include your name and if you want to tell where you heard it, we'll give them credit too! Use the handy link below and keep 'em comin'. |
A young boy ran excitedly into the house yelling "Grandpa! Make a sound like a frog!"

Grandpa says, "Whoa! Whatta ya mean make a noise like a frog?"

"You know, that noise that frogs make at night."

"Why do you want me to do that?" Grandpa asks.

And the boy tells him, "Grandma says that when you croak, we're going to Disneyland!"

Garry Bichelmeyer @ B. K. Lounge
=====================
A farmer stopped by the local mechanic shop to have his truck
Fixed. They couldn't do it while he waited, so he decided he
Would just walk home.
On the way home he stopped at the
hardware store
and bought a
Bucket and a gallon of paint. He then stopped by the feed store
And picked up a couple of chickens and a goose. However,
Struggling outside the store he now had a problem -- how to
Carry all of his purchases home.
While he was scratching his head, he was approached by a little
Old lady who told him she was lost. She asked: "Can you tell me
How to get to 1603 Mockingbird Lane?"
The farmer said: "Well, as a matter of fact, my farm is very
Close to that house. I would walk you there but I can't carry
This lot."
The old lady suggested: "Why don't you put the can of paint in
The bucket, carry the bucket in one hand, put a chicken under
Each arm, and carry the goose in your other hand?"
"Why, thank you very much," he said and proceeded to walk the
Old girl home. On the way he said: "Let's take my shortcut and
Go down this alley. We'll be there in no time."
The little old lady looked him over cautiously, then said: "I
Am a lonely widow without a husband to defend me. How do I know
That when we get in the alley you won't hold me up against the
Wall and have your way with me?"
The farmer said: "Holy smokes, lady! I'm carrying a bucket, a
Gallon of paint, two chickens, and a goose. How in the world
Could I possibly hold you up against the wall and do that?"
The old lady replied: "Set the goose down, cover him with the
Bucket, put the paint on top of the bucket, and I'll hold the
Chickens."
Another Bill Clark "zinger"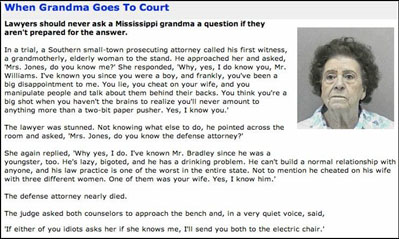 Thanks to Marvin Bredemeier @ Annie's Country Jubilee
Bottle of Wine
A woman and a man are involved in a car accident on a snowy, cold Monday morning; it's a bad one. Both of their cars are totally demolished, but amazingly neither of them is hurt. God works in mysterious ways. After they crawl our of their cars, the man is yelling about women drivers.
The woman says, 'So, you're a man. That's interesting. I'm a woman. Wow! Just look at our cars! There's nothing left, but we're unhurt. This must be a sign from God that we should be friends and live in peace for the rest of our days.'
Flattered. the man replies, 'Oh, yes, I agree completely, this must be a sign from God! But you're still at fault....woman shouldn't be allowed to drive.'
The woman continues, 'And look at this, here's another miracle. My car is completely demolished but this bottle of wine didn't break. Surely God wants us to drink this wine and celebrate our good fortune. She hands the bottle to the man.
The man nods his head in agreement, opens it and drinks half the bottle and then hands it back to the woman.
The woman takes the bottle, puts the cap back on and hands it back to the man.
The man asks, 'Aren't you having any?'
The woman replies, 'No, I think I'll just wait for the police.'
MORAL OF THE STORY
Women are very clever, sometimes evil
Don't mess with them
Thanks to our friend Bill Clark
The preacher stopped Leroy as he was leaving the church last Sunday and wanted to know if he had any problems, anything perhaps he could help him with.
"Just my hearing." Leroy told him. With that the preacher put his two fingers in Leroy's ears and began chanting, praying and generally putting on quite a performance.
"How's your hearing now?" the cleric finally asked.
"Okay, I guess but actually the hearing's not until next week," Leroy told him.
Larry Dean @ B.K. Lounge
Like everyone else, I'm fed up with all this government waste. Just this past year, they spent over 2 million dollars studying fire hydrants and came to the conclusion that everything inside them was H2O and everything on the outside was K9P!
Harley Worthit @ Middle Creek Theatre
SAD NEWS - ANOTHER ENTERTAINER LEAVES US

Please join me in remembering a great icon of the entertainment community - the Pillsbury Doughboy died yesterday of a yeast infection and trauma complications from repeated pokes in the belly. He was 71.

Doughboy was buried in a lightly greased coffin. Dozens of celebrities turned out to pay their respects, including Mrs. Butterworth, Hungry Jack, the California Raisins, Betty Crocker, the Hostess Twinkies and Captain Crunch. The grave site was piled high with flours.

Aunt Jemima delivered the eulogy and lovingly described Doughboy as a man who never knew how much he was kneaded. Born and bread in Minnesota, Doughboy rose quickly in show business, but his later life was filled with turnovers, he was not considered a very smart cookie. Wasting much of his dough on half baked schemes. Despite being a little flaky at times, he still was a crusty old man and was considered a positive roll model for millions.

Doughboy is survived by his wife Play Dough, three children: John Dough, Jane Dough and Dosey Dough, plus they had one in the oven. He is also survived by his elderly father Pop Tart.

The funeral was held at 3:50 for about 26 minutes.

Thanks to Garry Bichlemeyer @ the B.K. Lounge
A teenaged boy had just passed his

driving test

and inquired of his father as to when they could discuss his use of the car.

His father said he'd make a deal with his son: 'You bring your grades up from a C to a B average, study your Bible a little, and get your hair cut.Then we'll talk about the car.' The boy thought about that for a moment, decided he'd settle for the offer, and they agreed on it.

After about

six weeks

his father said, 'Son, you've brought your grades up and I've observed that you have been studying your Bible, but I'm disappointed you haven't had your hair cut.

The boy said, 'You know, Dad, I've been thinking about that, and I've noticed in my studies of the Bible that

Samson

had

long hair

,

John the Baptist

had long hair, Moses had long hair...and there's even strong evidence that Jesus had long hair.'

To this his father replied, 'Did you also notice they all walked everywhere they went?'

Another good 'un from our friend Bill Clark
Dinner Decisions:

A group of 40 year old buddies discussed where they should meet for dinner.

Finally it was agreed upon that they should meet at the Ocean View restaurant because the waiters and waitresses there were very young and very hot.

10 years later at 50 years of age, the group once again discussed where they should meet for dinner. Finally it was agreed that they should meet at the Ocean View restaurant because the food there was very good and the wine selection was good also.

10 years later at 60 years of age, the group once again discussed where they should meet for dinner. Finally it was agreed that they should meet at the Ocean View restaurant because they could eat there in peace and quiet and the restaurant had a beautiful view of the ocean.

10 years later, at 70 years of age, the group once again discussed where they should meet for dinner. Finally it was agreed that they should meet at the Ocean View restaurant because the restaurant was wheel chair accessible and they even had an elevator.

10 years later, at 80 years of age, the group once again discussed where they should meet for dinner. Finally it was agreed that they should meet at the Ocean View restaurant because they had never been there before.
Bill Clark sent this one to us.
And then there was this Oriental gentleman who went to the eye doctor and after the examination, the doctor asked him, "Do you know you have a cataract?"

"No," the Oriental man replied, "I have a Winkin' Continental!"

Garry Bichelmeyer @ Grinter Barn
Maryland...
God was missing for six days. Eventually, Michael, the archangel, found him, resting on the seventh day..
He inquired, "Where have you been?"
God smiled deeply and proudly pointed downwards through the clouds, "Look, Michael. Look what I've made."
Archangel Michael
looked puzzled, and said, "What is it?"
"It's a planet," replied God, and I've put life on it.. I'm going to call it Earth and it's going to be a place to test Balance."
"Balance?" inquired Michael, "I'm still confused."
God explained, pointing to different parts of Earth. "For example,
northern Europe
will be a place of great opportunity and wealth, while
southern Europe
is going to be poor. Over here I've placed a continent of white people, and over there is a continent of black people. Balance in all things."
God continued pointing to different countries. "This one will be extremely hot, while this one will be very cold and covered in ice."
The Archangel , impressed by God's work, then pointed to a land area and said, "What's that one?"
"That's
Maryland
, the most glorious place on earth. There are beautiful mountains, rivers and streams, lakes, forests, hills, and plains. The people from Maryland are going to be handsome, modest, intelligent, and humorous, and they are going to travel the world. They will be extremely sociable, hardworking, high achieving, carriers of peace, and producers of good things."
Michael gasped in wonder and admiration, but then asked, "But what about balance, God? You said there would be balance..."
God smiled, "Right next to Maryland is
Washington , DC
. Wait till you see the idiots I put there."
Thanks to Bill & Lisa Bennett
A census taker in a rural area went up to a farmhouse and knocked. When a woman came to the door, he asked her how many children she had and their ages.

She said, "Les' see now, there's the twins, Kathy and Katy, they're eighteen. And the twins, Seth and Beth, they're sixteen. And the twins, Penny and Jenny, they're fourteen---- "

"Hold on!" said the census taker, "Did you get twins every time?"

The woman answered, "Heck no, there were whole bunch of times we didn't get nothin'."
Saturday morning I got up early, quietly dressed, made my lunch, grabbed the dog, and slipped quietly into the garage. I hooked up the boat up to the truck, and proceeded to back out into a torrential downpour.. The wind was blowing 50 mph, so I pulled back into the garage, turned on the radio, and discovered that the weather would be bad all day.

I went back into the house, quietly undressed, and slipped back into bed. I cuddled up to my wife's back, now with a different anticipation,and whispered, "The weather out there is terrible."

My loving wife of 10 years replied, "Can you believe my stupid husband is out fishing in that?"

And that's how the fight started...

******************************************

An older, white haired man walked into a jewelry store one Friday evening with a beautiful young gal at his side.

He told the jeweler he was looking for a special ring for his girlfriend.

The jeweler looked through his stock and brought out a $5,000 ring.

The old man said, 'No, I'd like to see something more special.'

At that statement, the jeweler went to his special stock and brought another ring over. 'Here's a stunning ring at only $40,000,' the jeweler said.

The young lady's eyes sparkled and her whole body trembled with excitement. The old man seeing this said, 'We'll take it.'

The jeweler asked how payment would be made and the old man stated, 'by check. I know you need to make sure my check is good, so I'll write it now and you can call the bank on Monday to verify the funds and I'll pick the ring up Monday afternoon.'

Monday morning, the jeweler phoned the old man. 'There's no money in that account.'

'I know,' said the old man, 'but let me take you to lunch so I can tell you about my weekend!'

Not All Seniors Are Senile!!!

It is near the end of the school year. The teacher has turned in her grades. There is really nothing to do. All the kids are restless because there is nothing to do, and it is near the end of the day.

The teacher says, "Whoever answers the questions I ask first and correctly can leave early today..." Little Johnny says to himself, "Good, I want to get outta here. I'm smart and will answer the question".

The teacher asked, "Who said 'Four Score and Seven, years ago'?" Before Johnny could open his mouth, Susie said, "Abraham Lincoln". The teacher said, "That's right Susie. You can go". Johnny was MAD that Susie answered first.

The teacher asked, "Who said, 'I Have a Dream'?" Before Johnny could open his mouth, Mary said, "Martin Luther King". The teacher said, "That's right Mary. You can go too". Johnny was even MADDER than before that Mary answered first.

The teacher asked, "Who said 'Ask not, what your country can do for you'?" Before Johnny could open his mouth, Nancy said, "John F Kennedy". The teacher said, "That's right Nancy . You can also go". Johnny was BOILING MAD by this time that Nancy had answered first.

Then the teacher turned her back to the class, and Johnny said, "I wish these broads would keep their mouths shut!" The teacher spun round and asked, "WHO SAID THAT?"

Johnny said, "TIGER WOODS! CAN I GO NOW…………?"

Jim Winters @ Annies Country Jubilee
GARDEN SNAKES CAN BE DANGEROUS...

Snakes also known as Garter Snakes (Thamnophissirtalis) can be dangerous. Yes, grass snakes, not rattlesnakes. Here's why.

A couple in Sweetwater, Texas had a lot of potted plants. During a recent cold spell, the wife was bringing a lot of them indoors to protect them from a possible freeze.

It turned out that a little green garden grass snake was hidden in one of the plants. When it had warmed up, it slithered out and the wife saw it go under the sofa.

She let out a very loud scream.

The husband (who was taking a shower) ran out into the living room naked to see what the problem was. She told him there was a snake under the sofa.

He got down on the floor on his hands and knees to look for it. About that time the family dog came and cold-nosed him on the behind. He thought the snake had bitten him, so he screamed and fell over on the floor.

His wife thought he had had a heart attack, so she covered him up, told him to lie still and called an ambulance.

The attendants rushed in, would not listen to his protests, loaded him on the stretcher, and started carrying him out.

About that time, the snake came out from under the sofa and the Emergency Medical Technician saw it and dropped his end of the stretcher. That's when the man broke his leg and why he is still in the hospital.

The wife still had the problem of the snake in the house, so she called on a neighbor who volunteered to capture the snake. He armed himself with a rolled-up newspaper and began poking under the couch. Soon he decided it was gone and told the woman, who sat down on the sofa in relief.

But while relaxing, her hand dangled in between the cushions, where she felt the snake wriggling around. She screamed and fainted, the snake rushed back under the sofa.

The neighbor man, seeing her lying there passed out, tried to use CPR to revive her.

The neighbor's wife, who had just returned from shopping at the grocery store, saw her husband's mouth on the woman's mouth and slammed her husband in the back of the head with a bag of canned goods, knocking him out and cutting his scalp to a point where it needed stitches.

The noise woke the woman from her dead faint and she saw her neighbor lying on the floor with his wife bending over him, so she assumed that the snake had bitten him. She went to the kitchen and got a small bottle of whiskey, and began pouring it down the man's throat.

By now, the police had arrived.
Breathe here...

They saw the unconscious man, smelled the whiskey, and assumed that a drunken fight had occurred. They were about to arrest them all, when the women tried to explain how it all happened over a little garden snake!

The police called an ambulance, which took away the neighbor and his sobbing wife.

Now, the little snake again crawled out from under the sofa and one of the policemen drew his gun and fired at it. He missed the snake and hit the leg of the end table. The table fell over, the lamp on it shattered and, as the bulb broke, it started a fire in the drapes.

The other policeman tried to beat out the flames, and fell through the window into the yard on top of the family dog who, startled, jumped out and raced into the street, where an oncoming car swerved to avoid it and smashed into the parked police car.

Meanwhile, neighbors saw the burning drapes and called in the fire department. The firemen had started raising the fire ladder when they were halfway down the street. The rising ladder tore out the overhead wires, put out the power, and disconnected the telephones in a ten-square city block area (but they did get the house fire out).

Time passed! Both men were discharged from the hospital, the house was repaired, the dog came home, the police acquired a new car and all was right with their world.

A while later they were watching TV and the weatherman announced a cold snap for that night. The wife asked her husband if he thought they should bring in their plants for the night.

And that's when he shot her.

Thanks to our friend Elmer Hatcher for this one.
Politicans are like old trousers. They only come clean in hot water
A dog with a heavily bandaged leg walked into a bar and announced, "I'm looking for the man who shot my paw!"

Garry Bichelmeyer @ BK Lounge
OMG...you won't believe this....
Justice in Lincoln, Nebraska

LINCOLN, NE. (AP) - A seven-year old boy was at the center of a LANCASTER County courtroom drama yesterday when he challenged a court ruling over who should have custody of him.. The boy has a history of being beaten by his parents and the judge initially awarded custody to his aunt, in keeping with child custody law and regulation requiring that family unity be maintained to the highest degree possible..

The boy surprised the court when he proclaimed that his aunt beat him more than his parents and he adamantly refused to live with her. When the judge then suggested that he live with his grandparents, the boy cried and said that they also beat him.

After considering the remainder of the immediate family and learning that domestic violence was apparently a way of life among them, the judge took the unprecedented step of allowing the boy to propose who should have custody of him.

After two recesses to check legal references and confer with the child welfare officials, the judge granted temporary custody to the Nebraska Cornhuskers, whom the boy firmly believes are not capable of beating anyone.

I FELL FOR IT!! DON'T FEEL BAD IF YOU DID TOO!!!
The Chief's Fan

A fellow went into a bar on a Sunday afternoon and discovered that the Kansas City Chiefs football team was on TV. He said to the bartender "For goodness sakes, I didn't know the Chiefs were on. My dog just loves 'em and loves to watch them on TV. He's out in the truck. Do you mind if I bring him in?" The bartender said, "No, it's kinda slow today. Bring him on in."

The customer brought his dog in and the dog's eyes were glued to the TV. He watched every play with growing excitement and when the Chiefs finally kicked a field goal, he went wild with joy, raced around the bar, did back flips and grinned from ear to ear. The bartender was amazed at the dog's happiness over a field goal and asked the owner, "If he gets this excited over a field goal, what does he do when the Chiefs score a touchdown?" The dog's owner said, "I have no idea. I've only had him for two years."
You know, I was just wondering....

Why is it that if you cross the North Korean border illegally you get
thrown into prison and get 12 years of hard labor; and if you cross the
Iranian border while out supposedly leisurely hiking in the hills, you
get arrested and imprisoned; But if you cross the U.S. border illegally,
you get a drivers license, a Social Security card, free health care,
free education, and sometimes even get to vote.

Who's bright idea was this?

I'm Just curious.
Light travels faster than sound. This is why some people appear bright until you hear them speak.
You will get a chuckle out of this one.
A woman was at work when she received a phone call that her small daughter was very sick with a fever. She left her work and stopped by the pharmacy to get some medication. She got back to her car and found that she had locked her keys in the car. She didn't know what to do, so she called home and told the
baby sitter
what had happened.
The
baby sitter
told her that the fever was getting worse. She said, "You might find a coat hanger and use that to open the door." The woman looked around and found an old rusty coat hanger that had been left on the ground, possibly by someone else who at some time had locked their keys in their car. She looked at the hanger and said, "I don't know how to use this."
She bowed her head and asked God to send her help. Within five minutes a beat up old motorcycle pulled up, with a dirty, greasy, bearded man who was wearing an old biker skull rag on his head. The woman thought, "This is what you sent to help me?" But, she was desperate, so she was also very thankful. The man got off of his cycle and asked if he could help.
She said, "Yes, my daughter is very sick. I stopped to get her some medication and I locked my keys in my car. I must get home to her. Please, can you use this hanger to unlock my car?
He said, "Sure." He walked over to the car, and in less than a minute the car was opened.
She hugged the man and through her tears she said, "Thank you so much! You are a very nice man."
The man replied, "Lady, I am not a nice man. I just got out of prison today. I was in prison for
car theft
and have only been out for about an hour."
The woman hugged the man again and with sobbing tears cried out loud, "Oh, Thank you God! You even sent me a professional!"
Thanks again to Bill Clark (we needed a chuckle today).
OOPS!!

I was camping last week, and had pretty much had my fill of roasted marshmallows. So after much ado about telling everyone goodnight I went to sleep. During the night I dreamed I was eating a 30 pound

Marshmallow

.

The next morning when I woke up I noticed something odd.-------wait for it.

My pillow was gone!

Contributed by Elmer Hatcher.
The

Gynecologist

A gynecologist had become fed up with

malpractice insurance

and HMO paperwork and was burned out. Hoping to try another career where skillful hands would be beneficial,
he decided to become a mechanic. He went to the local

technical college

, signed up for classes, attended diligently, and learned all he could. When the time for the practical exam approached, the gynecologist prepared carefully for weeks and completed the exam with tremendous skill.


When the results came back, he was surprised to find that he had obtained a score of 150%. Fearing an error, he called the instructor, saying, "I don't want to appear ungrateful for such an outstanding result, but I wonder if there is an error in the grade."


The instructor said, "During the exam, you took the engine apart perfectly, which was worth 50% of the total mark.

"You put the engine back together again perfectly, which is also worth 50% of the mark."


After a pause, the instructor added, "I gave you an extra 50% because you did it all through the muffler, which I've never seen done in my entire life.
Contributed by Jim Winters



A little old lady answered a knock on the door one day, only to be confronted by a well-dressed young man carrying a vacuum cleaner. 'Good morning,' said the young man. 'If I could take a couple of minutes of your time, I would like to demonstrate the very latest in high-powered
vacuum cleaners
.'
'Go away!' said the old lady. 'I'm broke and haven't got any money!' and she proceeded to close the door.
Quick as a flash
,the young man wedged his foot in the door and pushed it wide open.
'Don't be too hasty!'he said. 'Not until you have at least seen my demonstration.' And with
that, he emptied a bucket of
horse manure
onto her hallway carpet. 'If this vacuum cleaner does not remove all traces of this
horse manure
from your carpet, Madam, I will personally eat the remainder.'
The old lady stepped back and said, 'Well let me get you a fork, 'cause they cut off my electricity this morning.'
Another Bill Clark joke!
Blondes

A blind man went into a bar and after ordering asked the lady bartender if she would like to hear a blond joke.

"Look," the bartender said, "our bouncer over there is tough as nails, big as a house and blond, by the way. Sitting right beside you is a steel worker with big arms and a nasty disposition who's also blond and at the table behind you is a lady wrestler and a weightlifter who also happen to be blond. And, of course there's also me, I'm 6' and weight 175 and blond as well. Now, are you sure you want to tell that blond joke?"

"No," said the blind man, "not if I'm going to have to explain it five times!"

Jeannie Seely, Grand Ole Opry Star @ Middle Creek 7-18-09
The Veterinarian

One Sunday, in counting the money in the weekly offering, the Pastor of a small church found a pink envelope containing $1,000. It happened again the next week!
The following Sunday, he watched as the offering was collected and saw an elderly woman put the distinctive pink envelope on the plate. This went on for weeks until the pastor, overcome by curiosity, approached her.
"Ma'am, I couldn't help but notice that you put $1,000 a week in the collection plate," he stated.
"Why yes," she replied, "every week my son sends me money and I give some of it to the church."
The pastor replied, "That's wonderful. But $1000 is a lot, are you sure you can afford this? How much does he send you?"
The elderly woman answered, "$10,000 a week."
The pastor was amazed. "Your son is very successful; what does he do for a living?"
"He is a veterinarian," she answered.
"That's an honorable profession, but I had no idea they made that much money," the pastor said. "Where does he practice?"
The woman answered proudly, "In Nevada .. He has two cat houses, one in Las Vegas , and one in Reno '
Contributed by Bill Clark
Redneck Computer Terms
BACKUP - What you do when you run across a skunk in the woods
BAR CODE - Them's the fight'n rules down at the local tavern
BUG - The reason you give for calling in sick
BYTE - What your pit bull dun to cusin Jethro
CACHE - Needed when you run out of food stamps
CHIP - Pasture muffins that you try not to step in
TERMINAL - Time to call the undertaker
CRASH - When you go to Junior's party uninvited
DIGITAL - The art of counting on your fingers
DISKETTE - Female Disco dancer
FAX - What you lie about to the IRS
HACKER - Uncle Leroy after 32 years of smoking
HARDCOPY - Picture looked at when selecting tattoos
INTERNET - Where cafeteria workers put their hair
KEYBOARD - Where you hang the keys to the John Deere
MAC - Big Bubba's favorite fast food
MEGAHERTZ - How your head feels after 17 beers
MODEM - What ya did when the grass and weeds got too tall
MOUSE PAD - Where Mickey and Minnie live
NETWORK - Scoop'n up a big fish before it breaks the line
ONLINE - Where to stay when taking the sobriety test
ROM - Where the pope lives
SCREEN - Helps keep the skeeters off the porch
SERIAL PORT - A red wine you drink with breakfast
SUPERCONDUCTOR - Amtrak's Employee of the year
SCSI - What you call your week-old underwear
Restroom Walls

Beauty is only a light switch away.
- Perkins Library, Duke University, Durham, North Carolina.

Remember, it's not, "How high are you?" it's "Hi, how are you?"
- Rest stop off Route 81. West Virginia

. It's hard to make a comeback when you haven't been anywhere.
- Written in the dust on the back of a bus. Wickenburg, Arizona

Make love, not war.-Hell, do both, get married!
- Women's restroom, The Filling Station. Bozeman, Montana.

No matter how good she looks, some other guy is sick and tired
of putting up with her crap.
- Men's Room, Linda's Bar and Grill. Chapel Hill, North Carolina
The elderly priest, speaking to the younger priest, said, "You had a good idea to replace the first four pews with plush bucket theatre seats. It worked like a charm. The front of the church always fills first now.
The young priest nodded, and the old priest continued, "And you told me adding a little more beat to the music would bring young people back to church, so I supported you when you brought in that rock 'n roll gospel choir. Now our services are always packed to the balcony."

"Thank you, Father," answered the young priest. "I am pleased that you are open to the new ideas of youth."
"All of these ideas have been well and good," said the elderly priest, "but I'm afraid you've gone too far with the drive-thru confessional."
"But Father," protested the young priest, "My confessions and the donations have nearly doubled since I began that!''
"Yes," replied the elderly priest, "And I appreciate that. But the flashing neon sign, 'Toot 'n Tell or Go to Hell' cannot stay on the church roof."
Contributed by Annie Little
AMISH VIRUS:

You have just received the Amish Virus. Since we do not have electricity nor
computers, you are on the

honor system

. Please delete all of your files.

Thank thee.
From: Elmer Hatcher
*A man who just died is delivered to a local mortuary wearing an expensive, expertly tailored black suit.*

The female blonde mortician asks the deceased's wife how she would like the body dressed. She points out that the man does look good in the black suit he is already wearing.

The widow, however, says that she always thought her husband looked his best in blue, and that she wants him in a blue suit. She gives the Blonde mortician a blank check and says, 'I don't care what it costs, but please have my husband in a blue suit for the viewing.'

The woman returns the next day for the wake. To her delight, she finds her husband dressed in a gorgeous blue suit with a subtle chalk stripe; the suit fits him perfectly. She says to the mortician, 'Whatever this cost, I'm very satisfied. You did an excellent job and I' m very grateful. How much did you spend?' To her astonishment, the blonde mortician presents her with the blank check.

'There's no charge,' she says.

'No, really, I must compensate you for the cost of that exquisite blue suit!' she says.

'Honestly, ma'am,' the blonde says, 'it cost nothing. You see, a deceased gentleman of about your husband's size was brought in shortly after you left yesterday, and he was wearing an attractive blue suit. I asked his wife if she minded him going to his grave wearing a black suit instead, and she said it made no difference as long as he looked nice.'

'So I just switched the heads.'


*(BET YOU DIDN'T SEE THAT COMING!!!) *
Contributed by John & Mary Pettersch
Larry: "I'm a little down in the mouth tonight. My aunt Matilda just passed away at the age of 107.

Dennis: That's too bad, but she had a good, long life if she lived to 107.

Larry: Well, the good news is, they managed to save the baby!

Larry Ellis - Dennis Dittemore@ Big Creek Showplace - orginally told by the late Joe Adleman, a retired KCMO Police captain.
A guy once told his mother that he didn't want to go to church.
"But you have to go to church," his mother told him.
"I'll give you two reasons why I'm not going to church," he told her.
"One: they don't like me and two: I don't like them."
"And I'll give you two reasons why you have to go," his mother replied.
"One: you're 59 years old and two: you're the pastor!"
Told by Brad Meadows at Middle Creek Theatre
Cuz'n Cricket was playing Bingo down at the church one Friday night awhile back and won. When he went up to claim his prize, they handed him an odd-shaped brush. Afterwards, he handed it to me and asked me what it was for.

"Cricket," I told him, "you're the proud owner of a brand-new toliet brush!"

Several days later, I saw him on the street and asked him how he liked his new toliet brush.

"I guess it's okay," he said, "but I believe I'll go back to paper!"

Told by Blake Williams of Williams & Clark Expedition @ Sally Mountain Festival
Butch: Someone said you had to hurry home tonight and take care of some mechanical work. What kind of mechanical work can you do in the middle of the night?

Jody: I gotta put a rear end in my recliner!

Butch Carter & Jody Jackson @ Jrs. Hitchin Post Opry
Marietta: I wuz down at the Wal-Mart the other day and I saw this thing they call a thermos bottle and I'd never seen one before. I asked the clerk what it was and he said "That's a thermos bottle!" "What's It do?" I asked him. "It keeps hot things hot and cold things cold," he told me. Well, I just had to have me one of those so I bought me this one.
Ken: So what do you have in it now?
Marietta: Two cups of coffee and an ice cream cone!
Larry King aka Marietta with Ken Butterfield @ Old Town Jamboree
Marietta: I got stopped by the police the other day.

Tim: Oh, really? What happened?

Marietta: He made me get out of the car, walk around it and then he shined his flashlight in my face and said, "Your eyes look bloodshot. Have you been drinking?"

Tim: What did you say?

Marietta: I said, "Certainly not. But tell me somethin', your eyes look glazed, have you been eating donuts?"

Larry King aka Marietta with Tim Dunagan @ Old Town Jubilee
Living Will:/bigger>/bigger>/fontfamily>

Last night, my wife and I were sitting in the living /bigger>/bigger>/fontfamily>room talking about many things. The idea of a living /bigger>/bigger>/fontfamily>will came up and I said to her, /bigger>/bigger>/fontfamily>"I never want to live in a vegetative state, dependent /bigger>/bigger>/fontfamily>on some machine and fluids from a bottle. If I ever /bigger>/bigger>/fontfamily>come to that just pull the plug."/bigger>/bigger>/fontfamily>

She got up, unplugged the TV and then threw out my /bigger>/bigger>/fontfamily>beer./bigger>/bigger>/fontfamily>

Pillow Talk

An older couple was lying in bed one night. The husband was falling asleep but the wife felt romantic and wanted to talk She said, "You used to hold my hand when we were courting." Wearily, he reached across, held her hand for a second and tried to get back to sleep. A few moments later she said, "Then you used to kiss me." Mildly irritated, he reached across, gave her a peck on the cheek and settled down to sleep. Thirty seconds later she said, "Then you used to bite my neck. "Angrily he threw back the bed covers and got out of bed. "Where are you going?" she asked. "To get my teeth!"

Contributed by Mary Kempa
Mom used to have one of those mood rings. When she was in a good mood, it would turn green. When she was in a bad mood, it would leave a red mark on my forehead!

Mike O'Roark @ Annie's Country Jubilee
"Why did you shoot your husband with a bow and arrow?" the prosecutor asked the woman.

"'Cause I didn't want to wake up the kids," she told him.

My Uncle went to court and got a suspended sentence. They hanged him.

Garry Bichelmeyer @ BK Lounge
Know how to make a Kleenex dance?

Blow a little "boogie" in it!

Luke Towns @ Annie's Country Jubilee 9/30/06
How do you know when your staying in an Arkansas hotel? When you call the front desk and say, "I've gotta leak in my sink," and the person at the front desk says, "Go ahead!"

Some Halloween 'slappers from H.A.B.O.T.:

What do you get when you cross Bambi with a ghost?

Bamboo

What does a skeleton order in a restaurant?

Spare ribs

Why did the vampire quit the baseball team?

They'd only let him play batboy

H.A.B.O.T. October newsletter
A friend of mine was in the check out line at the grocery store, behind this woman watching her put her milk, eggs, bacon and other items on the belt.

"I take it you're single," he told her.

"Why would you say that?" she asked him. "Is it because of what I'm buying?"

"No. It's because you're ugly!"

Bubba Clydesdale @ Big Creek Opry
I was once on stage performing and I noticed a man on the front row talking and disrupting the show. I stopped the show and asked him what the problem was.

"Oh," he said, "well, I'm from Texas and I was just telling them about my ranch."

"What about it?" I asked him.

"Well, you can start at one end of it and drive from dawn till daybreak and never leave my property.

"I'm from Arkansas," I told him, "and I know an old boy with a truck like that!"

Wally Barbee @ Sulphur Springs (AR) Classic Country
The bus was hauling a load of senior citizens from the local rest home on a tour of the city when a little old lady tapped the bus driver on the arm and handed him a handful of peanuts. He thanked her and went on driving and munching on the nuts. Soon she handed him another handful and later still another.

"Ma'am, don't any of you ladies like peanuts?" he asked her.

"No," she told him, "we don't have any teeth, so we just suck all the chocolate off 'em!"

Jack Sanders @ Ft. Scott Jubilee
A man took his wife to the doctor and sat out in the waiting room. After an hour or so, the doctor came out.

"She doesn't look good," he told the man.

"Yeah, but she's great with the kids," the man replied.

Submitted by Jay Holmgren
Did you hear about the man who was making big bucks? Last I heard, he was in jail. He made 'em about a half inch too big!

Joe White - Thursday Night Opry
Q. When you pat a dog on its head he will wag his tail. What will a goose do?

A. Make him bark?
When his wife suddenly fainted, the redneck hurriedly called 911. The emergency operator answered and asked him what the matter was.
"My wife just fainted," the redneck said "Hurry and send an ambulance.
"Where do you live?" the operator asked.
"Down at the end of Eucalyptus Street," he told her.
"Can you spell that?" the operator asked.
"Tell you what," the redneck tells her, "I'll just drag her over on Oak and you can pick her up there!"
Billy Dean Bennett - Clarksdale Opry
Why do children have to be quiet in church? To keep from waking up the adults.

Connie Henry - Stewartsville Opry
This lady went up to the bartender and ran her fingers through his hair, tugged his ear and patted his face. "C-can I help you?" the poor bartender finally managed.

"Where's the manager," she seductively whispered.

"He's not here right now," he told her.

With that the lady ran her fingers through his hair, rubbed his face and finally put a finger, suggestedly in his mouth.

"H-h-he'll be back later," the bartender stammered. "Can I take a message?"

"Yes," the lady told him, "You might want to tell him he's out of soap and tissue in the lady's rest room!"

Larry Dean, BK Lounge
Clarence had this new girl friend and one evening they are sitting on the living room couch, watching TV and cuddling and smooching and carrying on when Clarence notices a man's picture on the end table.

"Who's that guy in the picture, your brother?" Clarence asks.

"No, it's not my brother, she tells him.

"Oh, well is it a boyfriend?" he asks her.

"No, it's not a boyfriend."

"Well, who is it then?" he insists.

"It's me!" she confesses, "BEFORE the operation!"

Harvey Hayseed teasing Clarence Hayden @ Country Pickin Opry
My wife ran off with a tractor salesman and two weeks later I got a John Deere letter.

Ran into my ex-wife last week - had to jump the curb.

Mike O'Roark - Country Pickin Opry
Mike, reminding everyone that originally Phil was a city boy before he moved to the farm, was telling about the day that Phil showed up to play at a local show, but was limping terribly.
"What happened?" Mike asked.
"I went horseback riding this morning," Phil said, "And we were going really fast when I fell off and one of my feet got caught in the stirrup! No matter what I did, I couldn't get that horse to slow down or stop. I though I was a goner till the manager of the Wal-Mart came out and pulled the plug."
Told by Mike Campbell on Phil Hilton @ The Farm
Acts 2:38

An elderly woman had just returned to her home

from an evening of Churc

h

services when she was startled by an intruder.

She caught the man in the act of robbing her home of its valuables and yelled, Stop! Acts 2:38!" (Repent

and be baptized, in the name of Jesus Christ so that your sins may be forgiven.)

The burglar stopped in his tracks. The woman calmly called the police and explained what she had done. As the officer cuffed the man to take him in, he asked the burglar, "Why did you just stand there? All the old lady did was yelling a scripture to you."

Scripture?" replied the burglar. "She said she had an Axe and Two 38's!"

Submitted by Tommy Helms
You know you're getting old when people tell you how nice your alligator shoes are and you're barefoot!

Mike O'Roark - Big Creek Country Show
My sister's not much of a driver; she flunked her driver's test four times. Tonight she was driving up here for the opry and I called her on her cell phone to tell her to be extra careful: I heard on the radio that someone was driving the wrong way on the Interstate.

She told me "Heck, that ain't nothin'. Where I'm at, EVERYBODY'S driving the wrong way!

Norma Radner @ Fillmore Opry
I adopted one of those greyhounds the other day. You know after they're done racing they do away with those dogs if somebody doesn't adopt them, so I got me one. As soon as I got him home, I painted a bus on his side!

That's a big dog and he drinks out of the toliet. Do any of your dogs drink out of the toliet? It kinda bugs me at times cause it tickles when I'm sitting there reading the paper.

Mike O' Roark @ Middle Creek
Politicans are like diapers. They should be changed frequently and for the same reason.
Q: What's the difference between mashed potatoes and pea soup?

A: You can mash potatoes!

Harvey Hayseed @ Leland Jones' Country Pickin Opry
I bought my granddaughter one of those new Barbie dolls the other day. It's called the "Divorce Barbie" and it comes with all of Ken's stuff!

Harvey Hayseed @ Leland Jones' Country Pickin Opry
I was listening to the weather the other day at my place in Branson and they were talking about the possibility of tornados in the area and the weather man said, "You know folks, tornados are kinda like hillbilly divorces -- when it's all over, somebody's gonna lose a trailer!

Sean Pittman @ Ft. Scott Jamboree
Ken took off and went down to the city the other day and wound up at a fancy hotel where they were having a florist convention. Guess he'd had a little too much to drink and took off all his clothes and streaked through the convention floor. He didn't get arrested or anything, but he did win FIRST PRIZE in "dried arrangements."

Tim Dunagan teasing Ken Butterfield @ Old Town Jamboree
I've never run around on my wife since we've been married. There's no use in disappointing two women!
Mike O'Roark @ Dirk's
An elderly lady was waiting for a parking place in a parking lot. While sitting in her big new Cadillac, this car started to back out. Just as she as was getting ready to pull in this space, a young fellow in a bright red sports car zipped right in front of her. Feeling kinda cocky, he looked at the lady and said "That's what you can do when your Young & Fast!!".

The lady couldn't believe what he had done. So she backed her new Cadillac up then puts into drive and she rams his pretty little sports car, backs up and rams it again. The young fellow couldn't believe what she was doing. After the lady was through ramming his car she looks at him & said "Sonny, that's what you can do when your Old & Rich".

from: Annie Little at the BK lounge
Q. If big-breasted women work at Hooter's, where do one-legged women work?

A. I-HOP

Submittee by Ron Holmes (Fillmore Opry)
A man, hearing of the passing of a distant relative, went to the gravesite to pay his respects and placed a bouquet of roses on the grave. He happened to glace over to his right and noticed an oriential gentleman was doing the same, but instead of flowers, he placed a steaming bowl of rice by the tombstone.

"Excuse me," he addressed the man, "I don't mean any disrespect, but just what time do you expect your dearly beloved to rise up and eat that rice?"

"About the same time yours rises up and smells those flowers," the man told him.

Palmer Eckert @ Fillmore Opry
Subject: Lifeline

Message :I was so depressed last night I called Lifeline. Got a call center in Pakistan .

I told them I was real suicidal. They got all excited... and asked if I could drive a truck.

Thanks Nancy - we needed a good chuckle!
Two old friends met up in a bar after several years and one asked the other if he was married. "Sure," the other told him, "And my wife's an angel."
"You're lucky," the first one told him, "Mine's still alive!"
Garry Bickelmeyer @ B.K. Lounge
Bubba took a drive up north of the river the other day and promptly got himself lost. He stopped at an old farmhouse to get directions and asked, "How do I get back to 291?"
"Eat more salads," the fellow told him.
David Taylor aka Bubba Clydesdale @ Big Creek Country Show
The old couple were up there in years and having trouble remembering things. One evening the husband announced he was going to the kitchen and asked his wife if she wanted anything.

"I'd like some ice cream," she told him, "But you better write it down."

"I can remember that," he said. "A bowl of ice cream."

"But I'd like some strawberrys too! Better write it down."

"I can remember that," he said, "Ice cream & strawberrys."

"And some whipped cream on top" she added, "Better write it down."

"Ice cream, strawberrys with whipped cream, no I've got it!" he insisted.

The old man goes into the kitchen and is gone about 45 minutes. Finally he appears with a plate of scrambled eggs and bacon. His wife looks at the plate and tells him, "See! I told you to write it down. Where's my toast?"

Dewayne Bowman @ Ft. Scott Opry
I saw Cuz' n Cricket the other day and he had two black eyes. I asked him what happened and he said he had "seen-us problems."

"Don't you mean sinus problems?" I asked him.

"No, seen-us problems," Cricket corrected me. "I was over to this lady's house, and we was making love and her husband seen us!"

Garry Bichelmeyer @ BK Lounge
A good 'un from a fellow opry fan

Two elderly couples were having dinner at one of the couples' home. After dinner the ladies went into the kitchen leaving the two men at the dinner table.
Conversation between the two men ensued.

"We went to a really nice restaurant the other night and the food was great and so were the prices", said one of the men.

"What was the name of the restaurant", asked the other.

The first man tried and tried, but couldn't think of it and finally said, "What's the name of that flower?"

"What flower?" asked the other man.

"You know the red one. That one with the thorns." he went on.

"Oh, you mean the rose".

"Yep, that's it" and with that he turned toward the kitchen and yelled, "Rose, what's the name of that restaurant we went to the other night?"

I guarantee you laughed! You can say it came from Bob & Helen Alig (my Mom and her husband)
I'm Pete Kaeding and we'll be in the audience tomorrow night to see Marty Smith.

A husband and wife are shopping in WalMart when the man picks up a
case of Budweiser and puts them into the shopping cart.
'What do you think you're doing?'asks his wife.
'They're on sale, only $15 for 24 cans,' he says,
Put them back. We can't afford it,' says the wife and they carry on shopping...
A few aisles later the woman picks up a $30 jar of face cream and
sticks it into the shopping cart.
'What do you think you're doing?' asks the man,
'It's my face cream. It makes me look beautiful,' she says.
The man replies........'So does 24 cans of Budweiser, and it's only
half the price!!!'
Contributed by Annie Little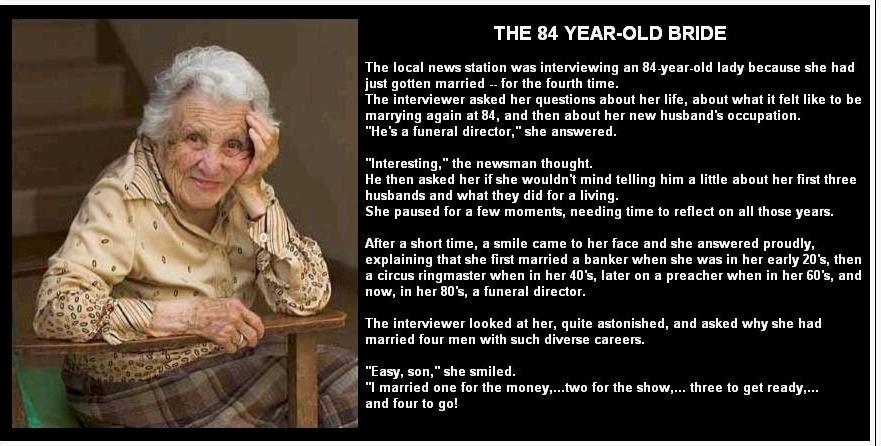 Submitted by Ron Holmes - Fillmore (MO) Opry
A blonde teenager, wanted to earn some extra money for the summer, so she decided to hire herself out as a 'handy-woman' and started canvassing a nearby well-to-do neighborhood. She went to the front door of the first house, and asked the owner if he had any odd jobs for her to do. 'Well, I guess I could use somebody to paint my porch,' he said,'How much will you charge me?' Delighted, the girl quickly responded, 'How about $50?' The man agreed and told her that the paint brushes and everything she would need were in the garage. The man's wife, hearing the conversation said to her husband, 'Does she realize that our porch goes ALL the way around the house?' He responded, 'That's a bit cynical, isn't it?' The wife replied, 'You're right. I guess I'm starting to believe all those dumb blonde jokes we've been getting by e-mail lately.' After a time, the blonde came to the door to collect her money. "You're finished already", the startled husband asked. "Yes", the blonde replied, "and I even had paint left over, so I gave it two coats. "Impressed, the man reached into his pocket for the $50.00 and handed it to her along with a ten dollar tip. "And by the way", 'the blonde added, "it's not a Porche, it's a Lexus."

Submitted by Dennis Dittemore
An elderly man in North Carolina had owned a large farm for several years. He had a large pond in the back, fixed up really nice, along with some picnic tables, horseshoe courts, and some apple and peach trees. The pond was properly shaped and fixed up for swimming when it was built.

One evening the old farmer decided to go down to the pond, as he hadn't been there for a while, and look it over. He grabbed a five gallon bucket to bring back some fruit.

As he neared the pond, he heard voices shouting and laughing with glee. When he came closer, he realized it was a bunch of young women skinny-dipping in his pond. He made the women aware of his presence and they all went to the deep end to shield themselves.

One of the women shouted to him, 'We're not coming out until you leave!'

The old man frowned and replied, 'I didn't come down here to watch you ladies swim naked or make you get out of the pond naked.' Holding the bucket up he said, 'I'm here to feed the alligator.'

Moral of the story: Old men may move slow but can still think fast!

Submitted by Wayne Hoover, Countryside Jamboree
=
from an old friend...looking forward to a new career
                                                as a chemical engineer... 


*I've often been asked, 'what do you old guys do now that you're

retired?'

Well, I have a friend who hangs out with me. He has a chemical 

engineering background and one of the things we enjoy most is turning 

beer, wine, bourbon, tequila, and martinis into urine.

 

And, we're pretty damn good at it.*

 

Contributed by Jim Winters, Annie's Country Jubilee
You can get away with murder in Arkansas. Everybody has the same DNA.

Mo Bandy @ Annie's Country Jubilee 8-2-08
In marriage there are three rings. First is the engagement ring. Next is the wedding ring. And last is the suffering.
Bob Harmon @ Jr's Hitchin Post Opry
.....and then the fight started

When I got home last night, my wife demanded that I take her somewhere expensive...so, I took her to a gas station....and then the fight started,,,

After retiring, I went to the Soclal Security office to apply for Social Security. The woman behind the counter asked me for my driver's license to verify my age. I looked in my pockets and realized I had left my wallet at home. I told the woman that I was very sorry, but I would have to go home and come back later. The woman said, "Unbutton your shirt." So, I opened my shirt revealing my curly silver hair. She said, "That silver hair on your chest is proof enough for me," and she processed my Social Security application. When I got home, I excitedly told my wife about my experience at the Social Security office. She said, "You should have dropped your pants. You might have gotten disability too!" ...and then the fight started...

My wife and I were sitting at a table at my high school reunion and I kept staring at a drunken lady swigging her drink as she sat alone at a nearby table. My wife asked, "Do you know her?" "Yes," I sighed, "She's my old girlfriend. I understand she took to drinking right after we split up those many years ago, and I hear she hasn't been sober since." "My God!" says my wife. "Who would think a person could go on celebrating that long?" ....and then the fight started...

I rear-ended a car this morning. So, there we were alongside the road and slowly the other driver got out of his car. You know how sometimes you just get so stressed and little things just seem funny? Yeah, well I couldn't believe it....he was a DWARF!!! He stormed over to my car, looked up a me and shouted, "I AM NOT HAPPY!!!" So I looked down at him and said, "Well, then which one are you?" ....and then the fight started...

Contributed by Pam Shauer
Out west they were having quite a problem for the folks who raised sheep in the area. Seems like there was a large population of coyotes that were killing and eating the sheep so the local ranchers decided to have a meeting and discuss possible solutions. Most off the assembled wanted to either poison the coyotes or hire professional hunters to track them down and shoot them. However, one man, a representative of the Sierra Club proposed trapping the offending animals in live cages, neutering them and then releasing them back into the population. He felt that in time, this would control the population.

One good ol' boy sitting near the back in a pair of bib overalls listening to the proceedings, raised his hand and told the man, "Mister, I don't think you understand what's goin' on here. Them coyotes aren't makin' love to our sheep. They're eatin' 'em!"

Jim Winters @ Annie's Country Jubilee
Once when I was in sales, I called this lead and a little voice answered, whispering "Hello." "Who's this?" I asked. "Jimmy," whispered the answer. "How old are you?" "Nine." "Jimmy, can I talk to your mother?" I asked. "She's busy." "What's she doing?" I asked. "She's talking to my daddy..." "How about your daddy? Could I talk to him?" "He's busy too...talking to the policeman." "The policeman?" I said. "What's the policeman doing? "He's talking to the fireman," Johnny offered. "The fireman?" I gulped. "And what is the fireman doing?" "He's looking," he whispered. "Looking? Looking for what?" I asked. "For me!"
Ron Burson @ Barn Door Opry
Unbelievably, Rayville, MO has had the same exact population for over a hundred years now...... every time a baby is born another man leaves town!
Harvey Hayseed @ Leland Jones' Country Pickin Opry
Did you hear about the new Chinese cookbook? It's called "How to wok your dog!"

Garry Bichelmeyer @ B.K. Lounge
When he was only about 5 years old, Bart's dad brought home a football and tossed it to him.

"Think you can pass that, Bart?" he asked.

"No Dad," Bart told him. "I don't know if I can even chew it!"

Johnny Hudson kidding Bart O'Neal @ Annie's 1-1-09
Jack decided to go skiing with his buddy, Bob. So they loaded up Jack's minivan and headed north. After driving for a few hours, they got caught in a terrible blizzard. So they pulled into a nearby farm and asked the attractive lady who answered the door if they could spend the night.
"I realize it's terrible weather out there and I have this huge house all to myself, but I'm recently widowed," she explained. "I'm afraid the neighbors will talk if I let you stay in my house."
"Don't worry," Jack said. "We'll be happy to sleep in the barn. And if the weather breaks, we'll be gone at first light." The lady agreed, and the two men found their way to the barn and settled in for the night. Come morning, the weather had cleared, and they got on their way. They enjoyed a great weekend of skiing.
But about nine months later, Jack got an unexpected letter from an attorney. It took him a few minutes to figure it out, but he finally determined that it was from the attorney of that attractive widow he had met on the ski weekend.
He dropped in on his friend Bob and asked, "Bob, do you remember that good-looking widow from the farm we stayed at on our ski holiday up north ab out 9 months ago ?"
"Yes, I do." said Bob
"Did you, er, happen to get up in the middle of the night, go up to the house and pay her a visit?"
"Well, um, yes !," Bob said, a little embarrassed about being found out, "I have to admit that I did."
"And did you happen to give her my name instead of telling her your name?"
Bob's face turned beet red and he said, "Yeah, look, I'm sorry, buddy. I'm afraid I did." "Why do you ask?"
"She just died and left me everything."

(And you thought the ending would be different, didn't you?... you know you smiled...now keep that smile for the rest of the day! )

Submitted by Annie Little
Ted was complementing Byron on his beautiful western shirt.
Ted: That's really a nice western shirt you're wearing tonight.
Byron: Thanks. It's a cowboy shirt and I'm a real cowboy!
Ted: Really?
Byron: That's right. As a matter of fact, I've got the front end of my horse tied up right backstage.
Ted: No kidding! And where's the rear end?
Byron: Standing right next to me holdin' that guitar!
Byron Jones and Ted Cline @ The New Northtown Opry
We don't own any horses or dogs, only a cat. And the other day when Ted came home he accidently ran over the cat's tail. I picked him up and put him in the car. "Where are you taking him?" Ted asked me and I told him Wal-Mart. "Why Wal-Mart,?" Ted asked with a puzzled look on his face. I told him that everyone knows that Wal-Mart is the biggest retailer in the country.

Ronni Ward @ Annie's Country Jubilee
Secret to A Long and Happy Marriage


At All Saints Lutheran Church they have a weekly husband's marriage seminar. At the session last week, the Pastor asked Ole, who was approaching his 50th wedding anniversary, to take a few minutes and share some insight into how he had managed to stay married to the same woman all these years.


'Vell,' Ole replied to the assembled husbands, 'I've tried to treat
her nice, spend da money on her, but best of all I took her to Norvay for da 20th anniversary!'

The Pastor responded, Ole, you are an amazing inspiration to all the husbands here! Please tell us what you are planning for your wife for your 50th anniversary.'

Ole proudly replied, 'I'm a-gonna go get her.'

Submitted by Bill Clark
Redneck Bank Loan
Never underestimate an Alabama Redneck.
This really is good....
A Redneck from Pohickey, Alabama walked into a bank in New York City and asked for the loan officer. He told the loan officer that he was going to Paris on an international redneck festival for two weeks and needed to borrow $5,000 and that he was not a depositor of the bank.
The bank officer told him that the bank would need some form of security for the loan, so the Redneck handed over the keys to a new Ferrari. The car was parked on the street in front of the bank. The Redneck produced the title and everything checked out. The loan officer agreed to hold the car as collateral for the loan and apologized for having to charge 12% interest.
Later, the bank's president and its officers all enjoyed a good laugh at the Redneck from the south for using a $250,000 Ferrari as collateral for a $5,000 loan. An employee of the bank then drove the Ferrari into the bank's private underground garage and parked it.
Two weeks later, the Redneck returned, repaid the $5,000 and the interest of $23.07. The loan officer said, 'Sir, we are very happy to have had your business, and this transaction has worked out very nicely, but we are a little puzzled. While you were away, we checked you out on Dunn & Bradstreet and found that you are a highly sophisticated investor and multimillionaire with real estate and financial interests all over the world. What puzzles us is, why would you bother to borrow $5,000?'
The good 'ole Alabama boy replied, 'Where else in New York City can I park my car for two weeks for only $23.07 and expect it to be there when I return?'
Submitted by Bill Clark